Most cost effective outdoor electrical heating on the market
Increased outdoor dining facilities at a minimum cost
Stylish minimal aesthetically pleasing design
Gentle comfortable pleasant heat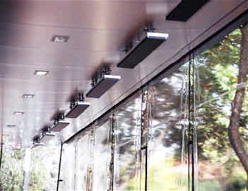 Electric radiant HEATSTRIP heaters from Heatmax NZ are an innovation of heating comfort. Like sitting in spring or autumn sunshine, Heatstrip heating panels produce comfortable, soft evenly distributed radiant warmth. Heatstrip panels rapidly warm solid objects not empty air and are therefore the most cost effective electrical heaters available. Depending on the model used and the price being paid for electricity, the operating cost of these heaters is around .50c an hour.
The slim, simplistically designed electric panels provide comfort heating for undercover or partly covered alfresco dining spaces and BBQ areas, patios, courtyards, verandas and balconies. They are wall or ceiling mounted and do not emit light or glow when in use, blending elegantly into the décor. They are widely used in restaurants and cafes and by discerning home owners.
Within your work place or business, HEATSTRIP panels can provide comfort heating for designated outdoor smoking and leisure areas, as well as for workstation spot heating in factories, workshops warehouses and showrooms.
They can be ceiling or wall mounted with inclusive brackets or with suspension chains. They can be recessed into a ceiling cavity and are a perfect addition to the Heatmax Architectural Umbrella System.
The unique alloy outer casing of HEATSTRIP heaters makes them suitable for use in all locations, including waterfront and coastal environments.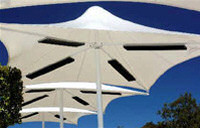 HEATSTRIP panels incorporate no internal moving parts, ensuring silent and maintenance free operation. They are IPX5 rated, which ensures protection against water penetration.
HEATSTRIP radiant heater panels are backed by a 24 month residential warranty and a 12 month commercial warranty.
For further details and to learn more about this product, please visit www.thermofilm.com.au – Heatmax NZ stocks the full range of products shown there.