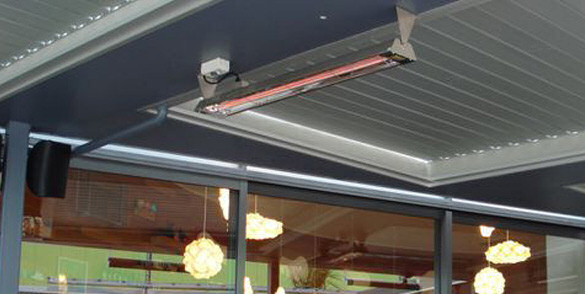 With their warm glow, Infratech energy efficient electric heaters not only look warm but feel warm. They can be wall, ceiling or flush mounted and cool touch housing allows for mounting close to walls, ceilings and awnings.
They are widely used, both indoors and out, in cafes, restaurants warehouses and industry.
Recently, the introduction of the new slimline model, with its more minimal sleek appearance, is proving popular for home installation.

With crisp, modern styling, an anodized aluminum housing and narrow profiles, Slimline heaters virtually disappear into the surrounding décor, and are capable of withstanding years of outdoor use.
Slimline heaters are ideal for surface mount applications up to ten feet, and feature a T-slot for flexible mounting options using the included brackets. Available in 1624, 2424, 3024 and 4024-watt models.