Retractable Roof Systems
Flexible functional all weather protection
Maximize your living space
Guarantee your venue has the opportunity to reach its full potential
The market leader in awning technology and innovation
Retractable Roof Systems, utilizing advanced European technology and materials, are a new addition to the NZ market and are attracting the attention of architects and designers looking for a completely waterproof and wind rated solution to overhead weather protection and changes to outside weather conditions.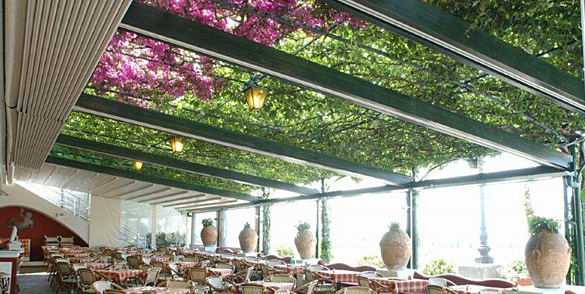 Featuring state of the art Ferrari skins the motorized systems are powered by Somfy hardware and will withstand winds up to 90km per hour.
Streetlife Architectural Umbrellas
Eliminate seasonal downturn created by weather conditions
Protect your customers from the elements
Add valuable dining space
Greatly increase your business profile
Extend your dining hours
Heated and lit for extended use

Known as the finest examples available, these permanent and innovative umbrella structures are manufactured by MakMax Australia, whose parent company the highly regarded Taiyo Kogyo Corporation are pioneers and undisputed market leaders in State of the Art membrane structure technology.
These high quality, eco-friendly and cost effective tension membrane shade structures, unmatched for aesthetics and durability, are specifically designed for cafes, restaurants, hotels, resorts, sporting applications, commercial buildings and quality residential projects.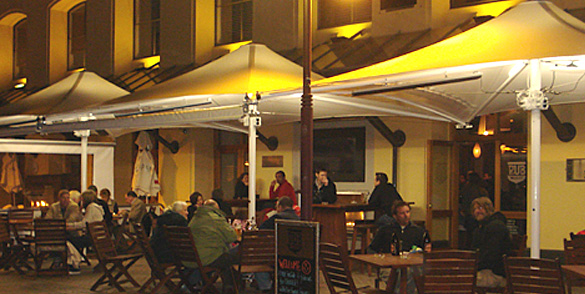 Fully foldable, they provide shelter and UV protection in hot weather. The addition of electric heating panels provides gentle comfortable heat in the cooler months. Elegant evening dining is achieved with the addition of soft diffused lighting.
The advanced tensile membrane canopy combined with a frame of high tensile steel has resulted in a structure which is able to withstand all weather conditions including winds in excess of 120km an hour. They can be installed in almost any location from roof top terraces to timber decks or concrete promenades. These pre engineered shades provide customers with a cost saving option compared to custom built structures.
The canopies are UV resistant and waterproof. They are coated with antifungal materials.
Optional accessories include side drop covers to ensure protection from the elements. They can be joined together with linkage panels and guttering can be attached.
Canopies are available in a wide range of shapes, and colours and can be printed with company logos. Sizes range from 3m x 3m. to 6m x 6m
To view details of available sizes and shapes and to learn more about these technologically superior shade structures, please click on the links below: