If you are looking for outdoor heating solutions that conserve business funds, the fully tax-deductible Heatmax rental plan may be the perfect solution. Heatmax NZ proudly offers patio heater hire options to help businesses with a more affordable heating solution.
Heatmax radiant gas patio heaters and cafe screens are available for both short and long-term monthly rent, with overnight portable gas heater hire available for weddings, corporate gatherings, and other social events. Offering 40 hours of burn time from just a 9kg gas bottle, you can count on Heatmax outdoor heaters to deliver when it matters most. Our highly efficient, clean-burning heaters can be used undercover and in outdoor areas, with no harmful emissions, dangers, or unsightly cords.
View our outdoor heater hire options below and fill in our contact form to rent, or call us at 0800 900 056 to book yours today!
Radiant Gas Patio Heater Hire
Heatmax Radiant Portable Gas Heaters heat objects, not empty spaces, ensuring your guests feel the warmth.
Learn more about the Heatmax Radiant Gas Patio Heater.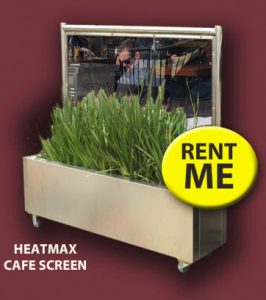 Cafe Screen Hire
Blocking the wind is crucial when heating the outdoors. Protect your outdoor seating from street noise and chilly winds with Heatmax Cafe Screens.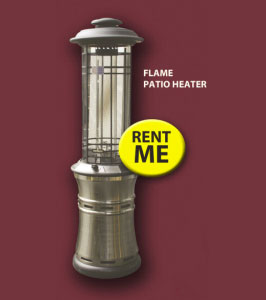 Flame Patio Heater Hire
Heatmax Flame Patio Heaters provide atmosphere and ambiance to the outdoors.